INTERNATIONAL SYMPOSIUM ON COMPLEXITY MODELLING AND ITS APPLICATIONS 2005 was finished successfully. We would like to express deep gratitude to all speakers and participants of our symposium.
---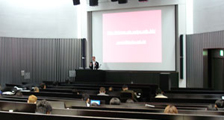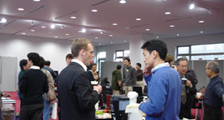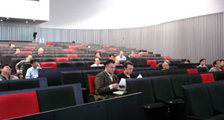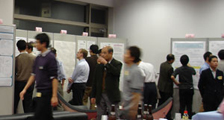 Copyright(C) AIHARA COMPLEXITY MODELLING PROJECT, ERATO, JST
---
Date
November 21(Mon) - 23(Wed), 2005
Location
Convention Hall / Foyer, General Research Experiment Building, Institute of Industrial Science, Komaba Research Campus, the University of Tokyo
Organized by

Superrobust Computation Project of the 21st Century COE Program
"Information Science and Technology Strategic Core"
Speakers
Shun-ichi AMARI - Opening Remarks
(RIKEN Brain Science Institute)
Kazu AIHARA - Closing Remarks
(The University of Tokyo; Aihara Complexity Modelling Project, ERATO, JST)
Dorjsuren BATTOGTOKH (Aihara Complexity Modelling Project, ERATO, JST)
Paul BRAZHNIK (Virginia Polytechnic Institute and State University)
Oscar DE FEO (Swiss Federal Institute of Technology Lausanne(EPFL))
Martin HASLER (Swiss Federal Institute of Technology Lausanne(EPFL))
Takashi KOHNO (Aihara Complexity Modelling Project, ERATO, JST)
Chunguang LI (Aihara Complexity Modelling Project, ERATO, JST)
Danilo MANDIC (Imperial College London)
Hugh ROBINSON (University of Cambridge)
Miguel A. F. SANJUAN(Universidad Rey Juan Carlos)
Takashi SHIMADA (Aihara Complexity Modelling Project, ERATO, JST)
Michael SMALL (The Hong Kong Polytechnic University)
Gouhei TANAKA (The University of Tokyo)
Hirokazu TOZAKI (Aihara Complexity Modelling Project, ERATO, JST)
Shigeki TSUJI (Aihara Complexity Modelling Project, ERATO, JST)
Poster Session
Call for poster session applications (Deadline:Nov. 11) : See more information
Symposium Registrations
Symposium registrations available (Deadline:Nov. 18) : See more information
Secretariat
Aihara Complexity Modelling Project, ERATO, JST
address3-23-5-201 Uehara, Shibuya-ku, Tokyo 151-0064, JAPAN
e-mail eratosymp2005@sat.t.u-tokyo.ac.jp
TEL +81-3-5452-0371
FAX +81-3-5452-0377
Copyright(C) AIHARA COMPLEXITY MODELLING PROJECT, ERATO, JST